Quality and Service
Neuma Doors has combined 30 years of creative design, research and development and production superiority, all of which enables us to offer a wide array of the world's leading fiberglass patio-door entry systems. This level of product excellence has been made possible by the design and development of the newest and most-advanced door-manufacturing facilities in the world. Neuma Doors' unparalleled level of product quality has been reinforced with an unstinting investment in the training and performance of our staff to ensure that the requirements of each customer are fulfilled to the highest level humanly possible.
Tight Production Control
Neuma Doors has built exhaustive quality control into every step of the production sequence to insure the highest possible quality at each and every step of the process, from design concept, to final assembly, to customer service. This vertically integrated approach gives us incredible control over the quality and costs of raw materials, manufacturing, fabrication and distribution. Our tightly controlled comprehensive approach allows us to guarantee excellence in quality and a lifetime of dependability for each component of every door system we sell
Technical Superiority
The industry-unique quality of Neuma Doors is guaranteed by 15 technical patents, which ensure our position as an industry leader in design, manufacturing and the fabrication of fiberglass patio door systems for the foreseeable future. We continually strive to give homeowners a product that will offer the look and feel to complement today's sophisticated home designs, as well as staying well ahead of the industry in design innovations, the adoption of new materials and advanced production techniques that will keep us on the leading edge of our industry.
Impact Series
One of the major causes of damage in any major storm is the wind and the debris carried with these high winds. Everything becomes a high-velocity missile when it is picked up and hurled towards your home during violent weather. Neuma's Hurricane Impact door systems help to prevent such dangerous objects from entering your home and providing an opening to water, high winds and even more debris.
Neuma's Hurricane and Impact Rated Patio Doors represent a quantum leap in protecting property and people during hurricanes and violent storms. Neuma Doors provide architects, designers, builders and homeowners a superior choice in terms of safety, value, quality and product performance.
Our high-impact fiberglass panels stand up to the harshest treatment, and are more resistant to denting than traditional metal doors. If the glass is broken, our standard 1" Insulated Laminated Impact glass maintains its integrity thanks to the vinyl interlayer which remains in the door frame. Unlike most of our competitors, Neuma offers our 1" Insulated Laminated Impact glass standard in our Hurricane Impact Series.
Neuma's Impact Rated doors pass the Texas Department of Insurance and Florida Building Code 2010 certifed in both impact and non impact fiberglass doos.
Neuma Doors' have also passed the following tests:
Miami Dade County N.O.A. 12-0612.05 Expiration Date: Sep. 18, 2013
Miami Dade County N.O.A. 12-0612.06 Expiration Date: Apr. 29, 2014
Miami Dade County N.O.A. 12-0612.07 Expiration Date: Apr. 29, 2014
Miami Dade County N.O.A. 12-0612.011 Expiration Date: Jul. 15, 2014
Miami Dade County N.O.A. 12-0612.012 Expiration Date: Jul. 15, 2014
Miami Dade County N.O.A. 12-0612.015 Expiration Date: Nov. 24, 2016
Miami Dade County N.O.A. 12-0612.016 Expiration Date: Aug. 03, 2016
Miami Dade County N.O.A. 12-0612.017 Expiration Date: Aug. 11, 2016
Miami Dade County N.O.A. 12-0612.018 Expiration Date: Aug. 31, 2016
Neuma Doors impact glider & inswing hinged fberglass doors can withstand windstorm of over 145mph, and our impact outswing hinged door can withstand as high as 170mph. (AAMA / NwwDA / CAS101 / I.S. 2 / A440-8)
Another unique feature to a Neuma door is the removable glazing that allows the glass to be replaced if it is broken. Most of the other impact rated doors on the market would have to have the entire door unit replaced if the glass was damaged.
With a wide variety of door styles, design options and configurations - Neuma Doors are an affordable option to expensive roll-down or accordian style shutters.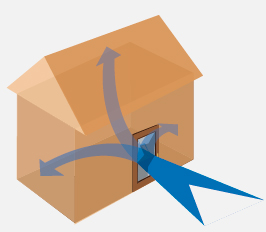 If a home has been breached through a broken door or window, wind can then enter. This causes an increase in pressure that can lift the roof and push the walls outward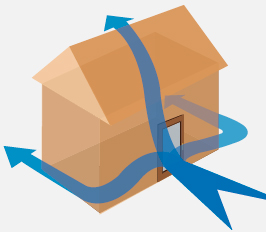 .
Our Hurricane Impact Series help preserve the house's envelope to minimize the damage from the storm's elements.
Wind Zone Map
Areas subject to hurricane-force winds. Wind-borne Debris Regions as determined by the International Building Code.
Neuma Doors impact gliding & inswing hinged fiberglass doors can withstand windstorm of over 145mph, and our impact outswing hinged door can withstand as high as 170mph.
(AAMA / NwwDA / CAS101 / I.S. 2 / A440-8)