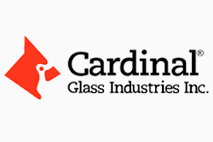 More About Cardinal
Since 1962, Cardinal's mission has been to provide the highest quality glass products for residential windows throughout the world. Today we're the largest fabricator of sealed insulating glass units and supply over half the low-emissivity coatings used in North America. We now distribute our energy efficient and durable glass products worldwide.


Sea-Storm Hurricane Glass
For homeowners in the southeastern coastal regions, hurricanes are a familiar problem. In fact, during 2005, there were a record number of hurricanes and major storms, including Katrina and Rita. Certainly these affected many lives in a clear way. Adequate protection of one's family and assets is of paramount concern during these unfortunate events.
CLICK HERE TO Learn about Sea Strom Glass
The Impact of Wind
During windstorms and hurricanes, windborne wreckage can impact windows, with gusting, pervasive winds to follow. To protect the inside of a home, windows must resist such penetration and remain in place and intact throughout the storm. Tests show that specially designed laminated glass products pass windborne debris impact tests, and when broken, the glass fragments tend to remain integral, adhering to the plastic interlayer, helping to preserve the stability of the building envelope.